Archive for October, 2005
The first rule for service, formal or semiformal, is convenience, and no longer are there cut-and-dried rules that must be followed. Either the hostess or the guest of honor may be served first, as you like. Service is from the left for placing, removing and offering dishes, with the exception of beverages and dessert spoon which will be from the right of the guest. When a used plate is to be replaced by a fresh plate, use left hand for removing and right hand for placing.
The first course may be in place when the meal is announced, or if it is a hot soup, it may be brought in after guests are seated. Crackers and relishes may be passed with this course. The first course dishes will be removed and replaced with heated dinner plates. Then meat and vegetables will be offered from the left for each guest to help himself. Sometimes the host carves the roast at the table and, in this case, he serves onto the dinner plates, which will then be placed before each person.
At the end of the course, the large serving dishes such as the meat platter and any others that have remained on the table are removed before the individual plates (and salad plates, if the salad has been served with the main course). If served as a separate course, the salad plates should be placed as the dinner plates are removed. The bowl of salad will then be passed. Sometimes, the hostess will toss the salad at the table and serve it before the plates are passed.
Before dessert, bread and butter plates and salts and peppers should be removed, the table brushed with the aid of a small napkin and a plate, and the water glasses refilled. Dessert plates, with a fork at the left and dessert spoon at right, will then be placed. Sometimes the silver is arranged on the dessert plate. If finger bowls are used, they should be arranged on the dessert plates from which the guests will remove them before the dessert is passed.
The dessert, like the salad, may be served by the hostess. As you will note, the suggested menus for formal luncheons and dinners do not offer more than four courses. These may be reduced to three if an appetizer type of salad, California style, is offered for the first course or if the salad is served with the main course. Often, semiformal service will be chosen for a luncheon or a dinner. This will certainly be the case with the bride's first family dinner. She will delight in using fine linen, china and silver which were among her gifts.
While she will be anxious to display her skill as cook, a menu should be planned which will not demand much attention at the last moment. If she decides to serve a first course, as she may in order to use more of her table accessories, it must be something that can be in place on the table: a combination of avocado and grapefruit, or a highly seasoned vegetable appetizer, which is actually a salad, or a jellied soup. The main course should be ready to bring to the table, and the menu should be planned accordingly.
The dessert should be chilling in the refrigerator or keeping warm in the oven so that it will not call for special attention by the young hostess. The same plan will often be used by the more experienced hostess when she has no extra help.
Every hostess will be called upon to entertain occasionally it luncheon or dinner where more or less formal service will be in order. The numbers that she can handle successfully will depend first of all upon the size of her dining table, and the number of place settings that she has acquired, but a dozen persons should be the limit for such occasions.
Except to celebrate a special event, the number in the group will usually be smaller, as guests up to eight can be handled with one extra helper if the hostess has done most of the preparation of the meal in advance, while a larger number calls for two aides if service is to be formal. For semiformal service, such as the bride's first family dinner and luncheons and dinners for close friends, one or two members of the group can be called upon to aid the hostess with the service.
Certain preparations can be made a day or two in advance of the day of the party. A lace or embroidered tablecloth with appropriate napkins that will be used for a dinner may need pressing. Luncheon cloths or place mats will be chosen for use at luncheon and their condition should be checked. The silver may need cleaning and the best dishes, unless they have been stored under special covers or used recently, will certainly demand washing.
When these operations are completed, silver and dishes should be placed on trays ready for use. In setting the table, a service plate should be arranged first at each place so that plenty of room will be allowed for the silver, an inch in from the edge of the table. On the right should be the knife, cutting edge toward plate; the spoon to its right; and the forks on the left, beginning at the outside in the order in which they will be used for the first and main courses. If salad is to be served with the main course, the fork for this may also be in place, or it may be brought in with the salad. Dessert silver will be reserved until the time of service.
The water glass should be placed at the right in line with the knife, while bread and butter plate, if used, with spreader across the top edge, will be at the left in line with the forks. A wine glass, if used, should be placed at the right of the water glass. The napkin should be at the left beside the forks, folded so that the edge will be toward the fork. Flowers should be arranged in a low bowl in the center of the table.
Soften gelatin in 3 cups cold tomato juice. Combine remainder with vegetables and seasonings. Cover and let simmer 10 minutes. Strain and add to soaked gelatin. Stir until dissolved. Add vinegar and pour into individual molds, or fill large flat pans to depth of 1 inches and chill until set. Unmold, or cut into squares and garnish with salad greens. Yield: 50 servings.
Note: If tomato juice cocktail is used, the vegetables and bay leaves may be omitted.
Cook chickens in water to cover, with sliced onions, diced celery, bay leaf and other herbs. Let simmer slowly until very tender. Drain and reserve stock. Bone and cut meat into dice. Add rice, bread crumbs, chicken fat and stock, and seasonings. Pack into greased tube molds, or place jelly glass in center of each casserole, and pack mixture around this. Bake in slow oven (325 F.) about 1 hour until set. Time will depend upon the size of molds. Remove from oven and let stand 15 minutes. Heat mushroom soup with milk and cream. Add minced parsley and pimientos. Turn mousse from molds onto deep plates and fill centers with sauce. Yield: 25 servings.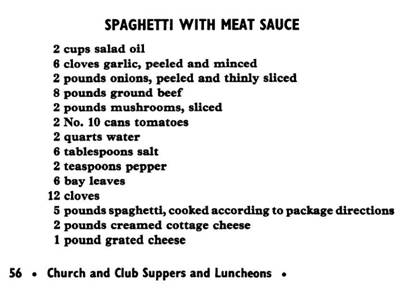 Heat salad oil. Add garlic, mushrooms, onions and meat, and brown lightly. Add tomatoes, water and seasoning. Simmer uncovered about 1 hours until sauce thickens slightly. Have the cooked spaghetti ready. Add to sauce and heat thoroughly. Place a portion of cottage cheese on each platter. Add spaghetti and sprinkle with grated cheese. Yield: 50 servings.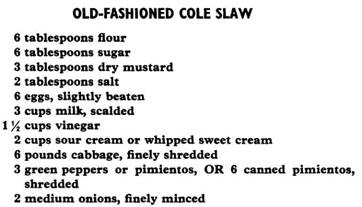 Mix dry ingredients thoroughly and combine with slightly beaten eggs. Stir in scalded milk and vinegar. Place in top of large double boiler and stir constantly over boiling water until dressing thickens. Cool and fold in cream. Mix vegetables in large bowl, and blend in the dressing. Serve garnished with salad greens and strips of pimiento and green pepper, or sliced stuffed olives. Yield: 50 servings.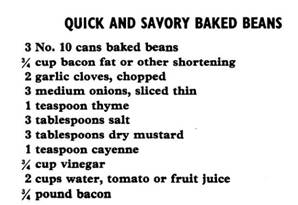 Mix beans with other ingredients except the bacon. Arrange in bean pots or large casseroles. Bake in slow oven (275 F.) 1 hour. Cut bacon into 1-inch strips. Place on top of the beans and continue baking in moderately hot oven (400 F.) about 20 minutes until bacon is crisp. Yield: 50 servings.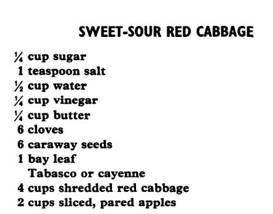 Combine sugar, salt, water, vinegar and bring to boil. Add butter, cloves, caraway seeds and bay leaf tied together in cloth bag, and Tabasco or cayenne. Add apples and cabbage. Cover and cook about 20 minutes until cabbage is tender. Remove cover, allow some of the liquid to evaporate and remove spice bag. Yield: 6 servings.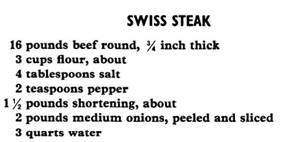 Have meat cut into individual servings. Mix flour, salt and pepper. Place on board and roll meat slices well in this. Melt about cup shortening in large skillet and brown meat in installments on both sides. Add more shortening with each installment of meat as needed. Transfer meat as it is cooked to large baking pans. When all the meat has been browned, add sliced onions to fat remaining in skillet and cook 3 or 4 minutes until lightly browned. Sprinkle with cup of flour and stir until well blended. Add 3 quarts water gradually and season to taste with salt and pepper. Stir until gravy thickens. Pour over meat, cover and bake in slow oven (300 F.) about 2 hours until tender. Yield: 50 servings.
Note: 1 pound sliced mushrooms may be cooked with the onions, if desired.
Have 4 frying chickens, 3 to 4 pounds each, cut into pieces for serving. Roll in seasoned flour and arrange in well-greased dripping pans. Sprinkle with melted shortening and bake in hot oven (450 F.) about hour until lightly browned. Baste occasionally with mixed melted butter and other shortening. When chicken is browned, cover with 2 thicknesses of heavy paper or foil. Lower heat to 225 F. and cook another hour until chicken is tender. Yield: 25 servings.