Archive for November, 2005

Soak mint leaves in vinegar 1/2 hour. Melt jelly over low heat and beat in mint-vinegar mixture. Serve with roast lamb. Yield: 10-12 servings.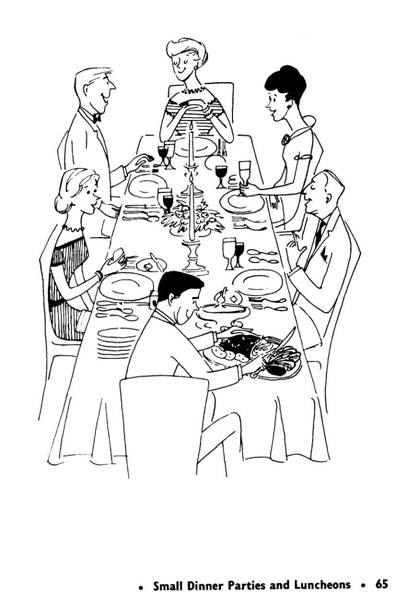 Cut leeks, if used, including about 3 inches of the green tops, into pieces. Cook leeks or onions and dill with the potatoes in the chicken stock until very tender. Press through sieve. Add butter, milk and cream. Season to taste with salt, pepper and paprika and reheat. Serve hot or cold garnished with chives or parsley. Yield: 6-8 servings.
Combine 3 cups finely shredded young green cabbage with dunking sauce to moisten. Chill in refrigerator at least 1 hour. Serve in lettuce cups arranged on salad plates or pile mixture in center of each plate and surround with watercress ring.
Yield: 6-8 servings.
Arrange on individual salad plates a long leaf of romaine. Top with alternate slices of avocado and grapefruit sections. Sprinkle with French dressing and garnish with pimiento or green pepper strips.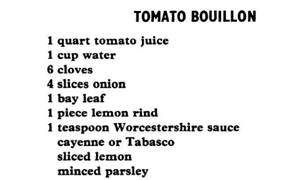 Combine tomato juice, water, cloves, onion, bay leaf and lemon rind. Cover, bring to a boil and let simmer 10 minutes. Strain. Add Worcestershire sauce and cayenne or Tabasco to taste. Serve in soup cups with a slice of lemon dipped in parsley in each. One teaspoon finely-diced cooked ham may be put in each cup. Yield: 6 servings.
Avocado and grapefruit appetizer Vegetable appetizer
Casserole of chicken Veal paprika
Oven-fried potatoes Noodles with poppy seeds
String beans with mushrooms Creamed spinach
Chocolate chiffon pie Coffee Ice cream sandwich Coffee Jellied consomme Grapefruit
Celery and carrot strips Glazed picnic ham
Roast chicken Casserole of sweet potatoes
Potatoes with parsley Asparagus Braised celery Mixed green salad
Lemon fluff Coffee Upside-down cake Coffee
Vichyssoise Relishes Fruit canape
Grilled Virginia ham Cheese souffle Mushroom sauce
Squash pudding Salad bowl
Persimmon salad Lemon sherbert cake Coffee
Wine jelly Coffee Cream of mushroom soup Jellied consomme
Rock lobster salad Chicken Tetrazzini Asparagus
Cheese biscuits Sliced tomatoes Mixed vegetable salad
Fruit compote Coffee Honeydew melon Coffee
Tomato bouillon Relishes Jellied consomme Relishes
Roast beef Oven-cooked broilers
Brown potatoes New potatoes with chives
Broccoli with Hollandaise Asparagus with brown butter
Avocado and tomato salad Salad bowl
Ice cream in meringue shells Ice cream with strawberries
Coffee Coffee
Broiled grapefruit Relishes
Crabmeat or lobster cocktail Roast turkey
Relishes Potato puff
Roast lamb Currant-mint sauce String beans with celery
Wild rice Peas Parisienne Cucumber salad
Coconut cream tarts Coffee Baked Alaska Coffee