Archive for December, 2005
Soak gelatin in cold water 5 minutes. Add boiling water and stir in sugar until dissolved. Add lemon juice, orange juice, Vermouth and wine. Pour into 1-quart glass bowl, and chill until set. Serve with whipped cream or custard sauce. Yield: 8-10 servings.
Make a cream sauce of the butter or margarine, flour, seasonings and milk. Add squash, bread crumbs, onion and slightly beaten egg yolks. Fold into stiffly beaten egg whites and pour into greased ring mold. Set in pan of hot water and cover mold with heavy paper or with foil. Bake in moderately hot oven (475 F.) about 1 hour until set. Remove from water and let stand 5 minutes. Turn out on chop plate. Fill center with small buttered beets. Yield: 8-10 servings.
Cook shelled peas, covered with a few lettuce leaves and a few slices of sweet onion, in very small amount of salted water. When almost tender, add butter and cook uncovered until most of the water has evaporated and peas are just tender. Top with sour cream.

Beat eggs slightly in small saucepan. Add half the butter and lemon juice. Hold saucepan over large pan containing hot water and stir constantly until butter is melted. Stir in remaining butter and continue stirring over hot water until thick. Season to taste with salt and Tabasco or cayenne. Yield: 4-6 servings.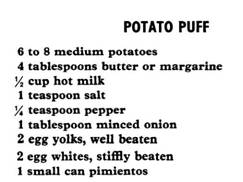 Pare and cook potatoes in boiling salted water until tender. Drain and press through ricer. Add butter or margarine, milk, salt, pepper, onion and egg yolks. Blend thoroughly and fold in stiffly beaten egg whites. Pile in greased 1 1/2 quart casserole and bake in hot oven (450 F.) about 15 minutes until lightly browned. Garnish with strips of pimiento. Yield: 8-10 servings.
Broilers may be merely split down the back. It may be easier for service at a party dinner or luncheon to have small broilers halved, and large broilers quartered. After cleaning, rub generously with softened butter or margarine, and sprinkle with salt and pepper, inside and out. Arrange in baking pan, skin side up, cover with thin onion slices and dot with more butter or margarine. Bake in hot oven (500 F.) about 20 minutes until lightly browned. Reduce heat to 325 F. and continue cooking 20 to 30 minutes until tender. Baste occasionally with the fat that accumulates in the bottom of the pan. Allow to 1 pound per serving. Part of the butter or margarine may be replaced by bacon fat.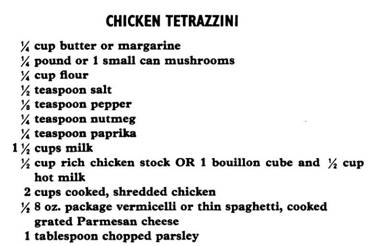 Melt butter or margarine, add mushrooms and cook 3 minutes over low heat. Stir in the flour and seasonings and then the milk and chicken stock. Continue stirring until sauce thickens. Add chicken and drained, cooked vermicelli or spaghetti and place in casserole. Sprinkle thickly with the grated cheese and bake in moderate oven (375 F.) about 20 minutes. Sprinkle with the chopped parsley. Yield: 4 servings.