Archive for August, 2013
Ingredients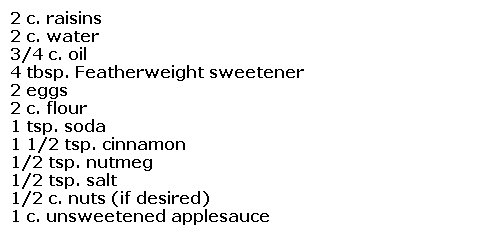 Method of Preparation
Sieve all dry ingredients together and keep aside. Take a separate bowl, mix all the wet ingredients. Then mix both wet and dry ingredients together. Mix well. Fold them in applesauce, nuts and raisins. Drop the mixture in a greased and floured pan unless using a non-stick pan. Bake at 350 degrees for about 25 to 30 minutes or until it is cooked well. Healthy applesauce cake is ready to taste.
Have you heard of the Paleo Diet Lifestyle?. It is a systematic nutritional plan that eliminates grain, legumes, oil, sugar and dairy products. An easy to follow guide of photos, food lists, charts, tips and recipes. You will gain explosive energy, a flat stomach, plus radiant skin all over your body and lean muscle tone. It contains over 350 recipes and 18 go-to categories with a 60-day money back guarantee that you will not fail at this one! Get instant access to cookbook to delicious foods that work together to help you lose weight safely and keep it off. For a LIMITED TIME you will receive 4 special bonuses including quick, simple meal recipes, 8-week meal planner, 15 delicious dessert recipes, medicinal herb and nutritional spice guide so grab this offer before it is gone forever… Click here for more information.
Ingredients
Method of Preparation
Cook stew meat till it is brown and saut wtith onions and mushrooms. Mix all the remaining ingredients into pot and cook until meat and vegetables are tender. Tasty moms beef stew is ready to serve.
Ingredients
Method of Preparation
Cook potatoes, wieners and onions in 2 tbsp butter until it is brown. Add milk, salt, pepper, flour and other 2 tbsp butter together by stirring constantly until the mixture boils and becomes smooth. Mix altogether in a soup pan or pot. Cook until everything is hot. Serve the tasty moms wiener soup.
Ingredients
Method of Preparation
Cook ground beef until it is brown. Add peppers, onions, cook until lightly sauteed. Cook noodles per package direction. Mix the remaining ingredients and cook until it is well blended. Add sauce with noodles or let them put on their own sauce. Tasty polish bigos and kluski is ready to serve.