Archive for May, 2006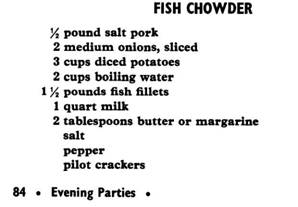 Dice salt pork and brown in 3-quart kettle or saucepan until crisp. Add onions, and cook 2 minutes. Add potatoes and water. Cover and cook 10 minutes. Flake fish coarsely and add with milk and butter or margarine. Simmer until potatoes are tender. Add salt and pepper to taste. Place crackers in soup plates and pour chowder over them. Yield: 6 generous servings.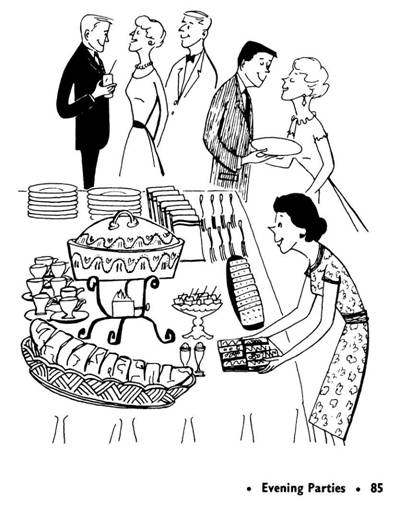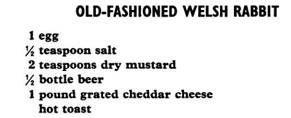 Beat egg slightly with the seasonings. Place beer in upper pan of chafing dish or upper part of double boiler over hot water. When warm, add the grated cheese and stir constantly until the cheese melts. Stir in egg-seasoning mixture and pour at once over hot toast. Yield: 6 servings.
"Come for coffee and dessert" that's a common invitation nowadays, especially on weekday nights, when early rising next morning must be considered. It's a popular way to entertain small groups of friends who enjoy cards, and perhaps a little larger group of friends whom you invite to watch a special television program. The dessert party is easy on the hostess as she can make all her preparations before her guests arrive.
The table may be arranged buffet style with plates, coffee cups, cream and sugar, silver and napkins. If a cold dessert has been chosen, it may already be in place when guests arrive. In any case, they can help themselves to both dessert and coffee. Large rather than demitasse cups are chosen for a party of this sort. There should be provisions for second helpings of dessert which may be one of your particular specials, such as strawberry shortcake in season, baked Alaska, Boston cream pie or a fine layer cake, or perhaps ice cream with a special sauce. If you know that your guests prefer lighter desserts, a fruit combination, such as ambrosia or a mixed fruit in wine or brandy, may be chosen. With this, dainty cookies may be offered if you like.
If you prefer an evening party for a Friday or Saturday night, the food you offer may follow a very different pattern, as it will be served at a later hour. It may consist merely of a cheese tray with a variety of crackers or buttered French or rye bread to accompany it. There should be a choice of beverages such as coffee, beer, or other chilled bottled drinks.
You may like to use your chafing dish or electric grill to prepare Welsh Rabbit or a fondue, or perhaps creamed oysters with celery, lobster Newburg, chicken a la king, or a shrimp Creole. Hot toast should be served with these and a relish tray may be an accompaniment if you like. A hearty soup such as French onion or a fish chowder is also suggested for a late snack.
Use recipe for Tea Biscuits. Add cup cut seeded raisins or dates to flour-shortening mixture before milk is added.
Orange Biscuits, Refrigerator Cookies, Cinnomon Toast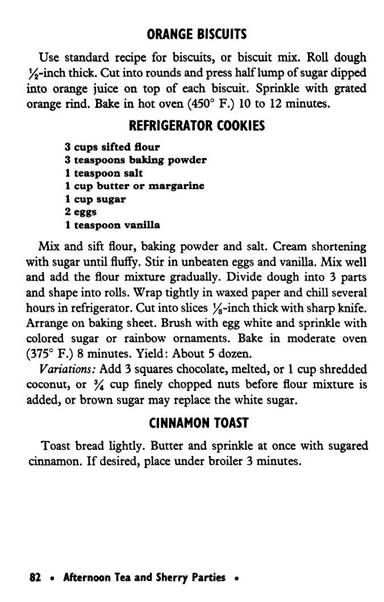 Use standard recipe for biscuits, or biscuit mix. Roll dough 1/4-inch thick and cut into small rounds. Spread half the rounds with softened butter and cover with remaining rounds. Bake in hot oven (450 F.) 10 to 12 minutes until lightly browned. Cheese biscuits Use recipe for Tea Biscuits. Sprinkle rounds with grated cheese as well as spreading with butter.
Checkout this new resource benefits of drinking green tea now!