This Pecan Shortbread recipe is the perfect holiday treat! It's made with just a few simple ingredients and comes together quickly. The shortbread is nice and tender, with a rich flavor from the brown sugar and pecans. Serve it with a cup of coffee or tea and enjoy!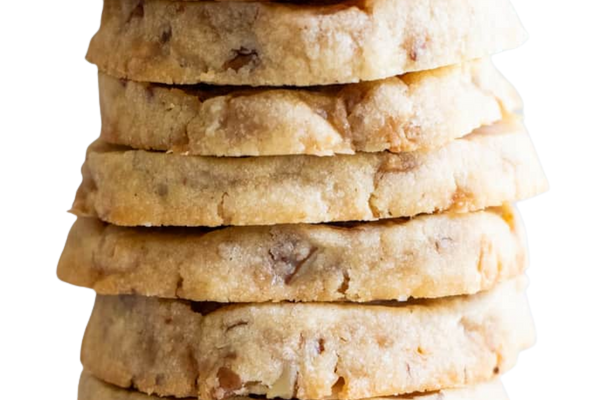 Ingredients
Pecans 1 cup
Flour (all-purpose) 2 1/8 cups
Confectioner's sugar 1 cup
Softened butter (unsalted) 1 cup
Pinch of salt- for taste
Vanilla extract 1 teaspoon
Method of Preparation
Take a small loaf pan of size 7 1/2 x 3 1/2 x 2 1/2 inches and line with plastic wrap. Ensure that the wrap lines the bottom as well as sides and the extra wrap should dangle over the edges.
Take pecans in a food processor fitted with a steel blade. Get the pecans ground finely by operating the food processor intermittently. Now add the flour and sugar to the ground pecans and work the food processor until the mixture is thoroughly combined.
With the flour sugar mixture till in the food processor, add the butter, salt, and vanilla to the food processor, and work the mixture again in a periodic fashion until dough is formed. Remove the dough and pack the dough in a lined loaf pan and by using a rubber spatula smoothen the top surface of the dough.
Tap the pan hard over the counter once to settle any air pockets. Cover the dough with the excess plastic wrap and refrigerate the dough for at least half a day. You can also keep the dough for two days provided you keep them refrigerated properly.
Preheat oven to 350F. Keep two ungreased baking sheets handy. Take out the dough from the refrigerator and after turning the dough out over a counter, peel off the plastic wrap. Cut the dough lengthwise into two halves using a long knife. Make inch square-shaped slices by cutting the dough crosswise.
Arrange the cut square slices over the baking sheets and bake the cookies for 15 to 20 minutes or until they are pale brown. Once the cooking is halfway through, switch the baking sheets from front to back and top to bottom in the oven.
Allow the cookies to settle for half a minute, and then remove them using metal spatula. Transfer the slices to wired racks for complete cooling. Store in an airtight container.