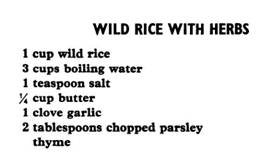 Add rice slowly to rapidly boiling salted water. Cover and cook over low heat about 15 minutes until water is absorbed. Remove cover, cover with towel, and set in warm place to dry. Melt butter. Add clove of garlic, cook slowly 5 minutes and remove. Add chopped parsley and a little thyme. Use fork to blend with rice. Yield: 6 servings.
Note: 1/4 cup coarsely cut nuts may be lightly browned in the butter.
If white rice replaces wild rice, add 1 tablespoon poppy seeds with the thyme.